Americas Best Chocolate 2023
Hello Chocolate is delighted to unveil the 2023 Americas Bean-to-Bar and Craft Chocolatier Competition winners of The International Chocolate Awards, determined through remote judging by the global team of judges and Grand Jury during the summer of 2023.
The winners were officially disclosed on September 9, 2023, via a Zoom event, with organizers and Grand Jury members participating from various corners of the world.
The esteemed panel of judges comprised our regular judges from across the Americas region, along with numerous IICCT (International Institute of Chocolate and Cacao Tasting) ( alumni, local area specialists, and members of the international Grand Jury panel. All judging procedures were meticulously anonymized and culminated in a final Grand Jury session, where Gold, Silver, and Bronze awards were bestowed following private voting in adherence to Grand Jury rules.
It's worth noting that all Gold, Silver, and Bronze recipients in this competition have earned the privilege to compete in the World Final scheduled for October 2023.
In a remarkable turn of events, two chocolates shared the same score for a Gold prize on two separate occasions this year. The Gold winners in the Micro-batch, plain/origin dark bar category were Feliu (Mexico) with their Soconusco 71% and Qantu (Canada) with their Gran Blanco 70%, both amassing an impressive score of 90.7. Additionally, both of these exceptional entries were bestowed with four special prizes. Another instance of double-gold recognition emerged in the Dark chocolate bars with inclusions or pieces category, where Peruvian Cacaosuyo's Piura Nibs and Brazilian MOA Chocolates' 70% Com Cupuaçu also achieved a noteworthy score of 90.7 points.
This competition witnessed an elevation in the quality of entries, with all overall winners scoring an impressive 90 points or higher. Cacao Hunters from Colombia made a triumphant return to the competition, clinching victory in both the Plain/origin dark and milk bar categories with their Arauca 70% and Tumaco Leche 53% bars, amassing scores of 90.7 and 90.4, respectively.
Among the prevailing trends in this season's competition, we observed the resurgence of classic milk chocolate, purposeful incorporation of vanilla, and the creative use of local fruits and herbs, including 'pitaya de mayo' (a variety of cactus fig in Mexico), Andean lavender, rica rica, cupuaçu, and sunfo.
Shop America's Best Chocolate 2023 Gift Bundle
The selection of bars that won International Chocolate Awards Americas Competition in 2023
Americas' Best Chocolate 2023
Sale price
$67.00 USD
Regular price
The List Of Americas Competition Winners 2023
"Best in Competition" Overall Winners
Flavoured Bars Categories
FELIU CHOCOLATE - PITAYA DE MAYO - GOLD (SCORE 91.10 OF 100) - MEXICO
Feliu blends cocoa varieties sourced from Soconusco (Chiapas) and Chontalpa (Tabasco) regions to create a unique fusion that accentuates the exotic flavor of a native Mexican cactus fruit, the Jalisco pitaya, also known as Mayo pitaya. The outcome is a great Mexican chocolate with a balanced profile, featuring mild bitterness and a subtle astringency. It shines with vibrant fruity acidity that harmoniously complements a delightful sweetness. Its intense aroma evokes notes of red fruits like strawberries, alongside hints of tamarind and hibiscus.
Plain/Origin Chocolate Bars
Plain/origin dark chocolate bar
BOHO Chocolate - Colombia, Sierra Nevada 70% - Silver (SCORE 89.0 OF 100) - USA
In the proximity of the Caribbean coast in Colombia, Sierra Nevada cacao thrives. In this region, a close-knit community of farming families diligently embraces the art of biodiverse cacao agroforestry, a practice they hold dear. The resulting chocolate offers a harmonious and subtle blend of chocolate and tropical fruit flavors.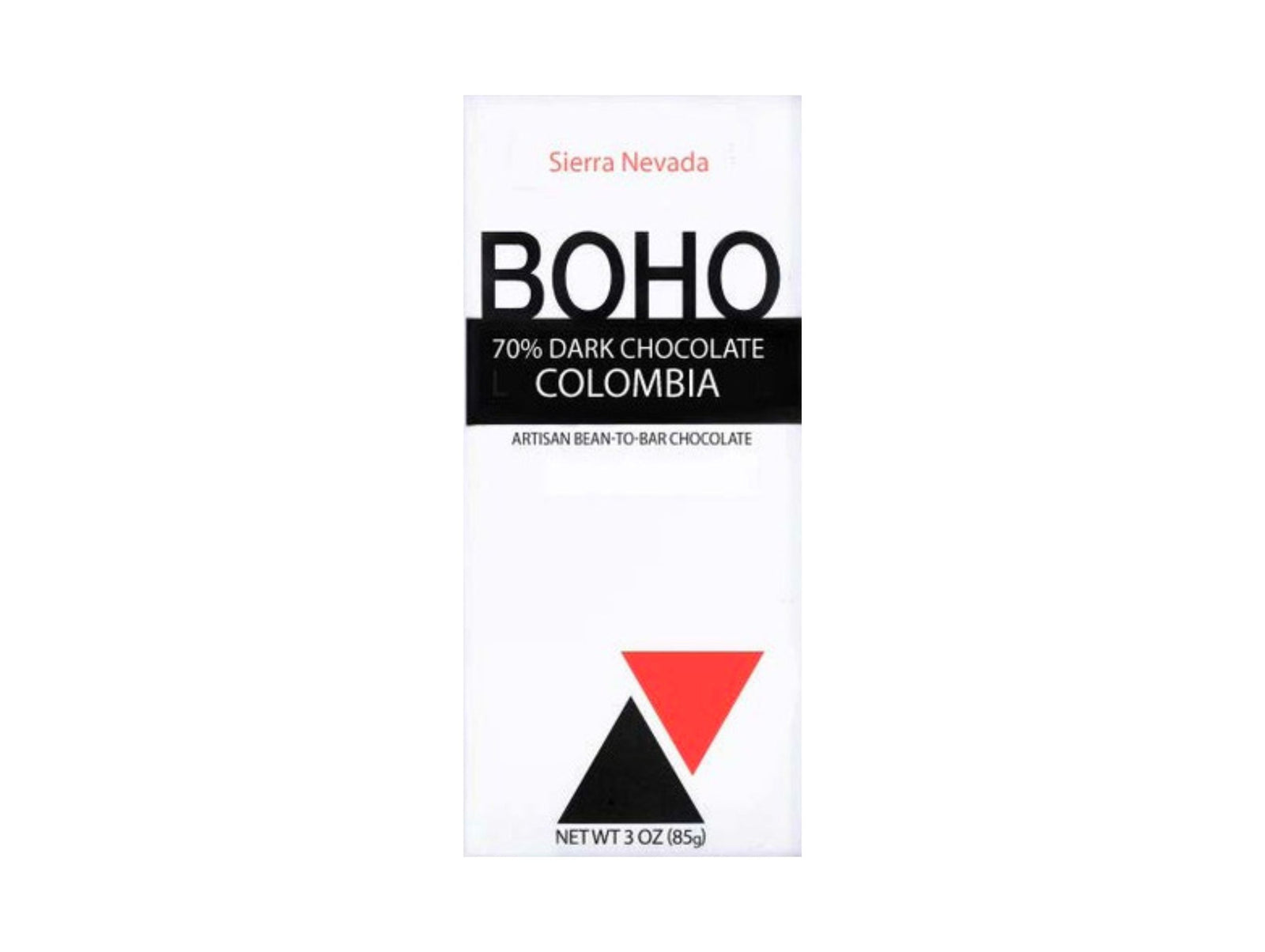 Plain/origin dark chocolate bar
BOHO Chocolate - Dominican Republic, OKO Caribe 70% - Silver (SCORE 87.9 Of 100) - USA
Nestled in the heart of the cacao-rich Duarte province within the Dominican Republic, Öko-Caribe, which translates to "eco-Caribe" in German, shines as a standout cacao supplier. Proprietors Adriano de Jesus Rodriguez and Gualberto Acebey Torrejon bring over 50 years of collective cacao expertise to the table, honing their systems to consistently deliver over 500 tons of high-quality cacao annually.
Plain/origin dark chocolate bar
PACARI CHOCOLATE - PIURA QUEMASZON 70% - BRONZE (SCORE 86.3 OF 100) - ECUADOR
This award-winning chocolate boasts a 100% organic, vegan, and fair trade composition, featuring a remarkable 70% cacao content sourced from the Piura region.
Embracing a host of health-conscious attributes, this creation is free from palm oil, gluten, dairy, soy, GMOs, nuts, and refined sugar. Furthermore, it proudly bears kosher certification, aligning with a plant-based lifestyle. Pacari's Limited Edition chocolate bars showcase the essence of rare cacao beans found in some of the most elusive corners of the world, resulting in limited availability. The esteemed accolades received from numerous International Chocolate Awards reflect the exceptional nature of these bars.
Plain/origin dark chocolate bar
Pacari Chocolate - Los Rios 72% - Bronze (SCORE 85.8 OF 100) - Ecuador
Dive in the pure essence of Pacari Chocolate with this exceptional vegan dark chocolate bar. Unadulterated by added flavors, yet enhanced by the distinct climate of Los Rios, it unveils the robust character of cacao complemented by hints of fruit blossom and a delicate undertone of roasted coffee. An essential classic that should not escape your attention, especially if this marks your inaugural encounter with Pacari's delights.
Micro-batch – Plain/origin dark chocolate bar
Feliu Chocolate - Soconusco 71% - Gold (90.7 OF 100) - Mexico
This chocolate is crafted from a blend of hybrid and Criollo cocoa varieties sourced from the Soconusco region in southern Chiapas. This unique blend boasts a remarkably intense aroma, characterized by vibrant citrus and fruity notes, accompanied by hints of toasted bread and raisins. Soconusco holds the distinction of being the birthplace of cocoa production in Mexico. It is likely one of the earliest regions where cocoa was cultivated on a substantial scale, dating back to pre-Columbian times. Our commitment to quality and sustainability is evident in our direct purchasing from local cocoa producers, ensuring they receive fair compensation in exchange for meticulous selection and post-harvest processing.
Micro-batch - Plain/origin dark chocolate bar
Feliu Chocolate - Flor De Un Dia 70% - Silver (90.0 of 100) - Mexico
Situated in the southern Chiapas region, nestled in the foothills of the Mexican Sierra Madre, lies the village of Flor de un día. The chocolate produced here is a harmonious blend of indigenous cocoa varieties, boasting a flavor profile that evokes memories of ripe mango and exotic tropical fruits. A generous and extended fermentation process ensures that the bitterness remains subtle and only emerges towards the very end of the tasting experience.
Micro-batch - Plain/origin dark chocolate bar
Chaleur B Chocolat - Ucayali 72% - Silver (89.5 of 100) - Canada
This very fragrant chocolate is made with beans from Peru, more precisely from the region around the Ucayali River. This is a region that has been awarded several times at the International Chocolate Awards, but which remains little known to the general public because, despite the quality of these beans, production is still very limited today. The reason is that the coca plantation there eclipsed that of the cocoa for several years. Working with USAID and Alianza Peru to provide a more profitable alternative to the cocaine market, operator Ucayali River Cacao collects and processes quality beans from a collective of nearly 400 smallholder farmers.  This line of chocolate products reflects Chaleur's concern for quality and transparency at all stages of production. Their particular touch lies in their choice to bet on the typical aromatic profile of a given terroir.   Note that nothing has been added to the chocolate and that the fruit flavours you will taste come directly from the bean.
Micro-batch - Plain/origin dark chocolate
Chaleur B Chocolat - Tenebris 70% - Silver (88.1 of 100) - Canada
Tenebris 70% has a classic chocolate aroma, a nice roundness and a lingering aftertaste. The taste of this "very cocoa" chocolate is punctuated with very pleasant notes of red fruits and blackberries, which will not leave anyone indifferent.
Micro-batch - Plain/origin milk chocolate
Chaleur B Chocolat - Lumina 70% Organic - Silver (87.2 of 100) - Canada
Introducing Lumina 70% – an exquisite couverture chocolate imbued with the essence of tropical fruits and toasted peanuts, resulting in a radiant and subtly zesty flavor that elevates your culinary creations. Crafted from the finest hybrid Trinitario cacao beans, this chocolate is nothing short of extraordinary.
Micro-batch - Plain/origin milk chocolate bar
McGuire Chocolate - Santa maria 70% - Bronze (86.8 of 100) - Canada
McGuire Chocolate's Santa Maria 70% is a chocolate lover's dream come true. Crafted with the highest quality ingredients, this one of the best dark chocolate in the world offers a balanced flavor of sweet dried fruit and light nutty notes. Indulge your taste buds with this exquisite 70% cocoa treat.
Micro-batch - Plain/origin milk chocolate bar
Chaleur B Chocolat - Tanzania 79% - Bronze (86.7 of 100) - Canada
The cocoa used to make this chocolate comes from Tanzania, from the village of Mbingu. It is the social organization Kokoa Kamili, which buys beans from surrounding producers at a fair price, which allows the export of this exceptional cocoa through a very strong social mission.
High % plain/origin dark chocolate bars (85% and over)
Sierra Sagrada - Sierra Nevada 100% - Silver (87.9 of 100) - Colombia
Presenting with immense delight is our latest addition to the Sierra Sagrada creations collection: a brand-new 100% cocoa sugar-free dark chocolate bar which was named one of the best chocolates in the world 2023 by the International Chocolate Awards. The cocoa in this exquisite bar is sourced from beans cultivated by resilient farmers who have endured the hardships of the armed conflict. These beans come from Quebrada Valencia and María, and the farmers are part of the Forest Guard association, dedicated to the restoration of the land with native trees in the foothills of the Sierra Nevada Santa Marta, known as the Heart of the World.
Hello Chocolate Pop-up at Tuck Studio

When we relocated Hello Chocolate's operations from Singapore to the vibrant and rapidly developing region of Atlantic Canada, our goal was to demonstrate that one doesn't need to be situated in New York, Toronto, or Montreal to enjoy a fantastic lifestyle and establish an inspiring business.

The Best European Chocolate 2023

In the world of fine chocolates, every bite is a moment of indulgence, a taste of craftsmanship, and a testament to the passion of artisans dedicated to their craft. The International Chocolate Awards have long been at the forefront of recognizing the best of the best in the chocolate industry. In 2023, the European Competition held in Florence, Italy, brought together a panel of experts to judge and celebrate the finest chocolates from these regions. Hello Chocolate is delighted to present the winners of this prestigious competition, showcasing the top European chocolates that have tantalized taste buds and captured hearts.

The Best Chocolate in The World 2022 

International Chocolate Awards was an undeniable authority in finding the best fine chocolate from around the world made from the best cacao. It was founded in 2012 and now it's the most reliable award you can use as guidance for navigating an exciting craft chocolate industry. We simply refer to it as the Chocolate Oscar.