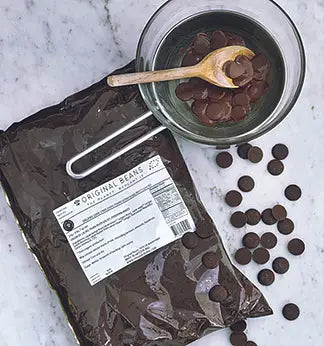 Original Beans
Original Beans - Couverture Chocolate Sugar-free Cusco 100%
Sugar-free Couverture Chocolate
Sale price
$78.75 USD
Regular price
$105.00
Originating from the elevated terrains of Cusco Heights, Peru, this extraordinary couverture chocolate awaits professional chocolatiers and pastry chefs seeking to elevate their creations. Distinctive notes of dried flowers and grass intricately weave a story of altitude, underscoring the origin of this remarkable cacao sourced from the exceptionally rare Chuncho cacao lineage – a heritage that has been cultivated since the Incan era.
Encompassed by the historic aura of Cusco, the once-mighty Inca capital, the traditional Chuncho cacao has gracefully withstood the test of time. Embrace the legacy of this revered cacao lineage through your acquisition of the potent Cusco 100%. By choosing this exceptional ingredient, you are not only preserving an ancient cacao marvel but also honoring its guardian – the majestic giant condor that graces the Andean skies.
Unleash the artistry of your craft by incorporating the distinct flavors and heritage encapsulated within the Cusco 100%. Elevate your confections and pastries with a touch of history and reverence, as you join the ranks of those who safeguard the legacy of extraordinary cacao craftsmanship.
We ship the best luxury craft chocolate from around the world to Canada, USA and worldwide. 
Shipping costs for orders outside of Canada and the USA vary depending on the destination. The shipping costs for international orders are displayed on the checkout page.
We currently ship to the following countries: Singapore, the United Kingdom.
Please note that customs/duties fees are not included in the price of shipping and are the sole responsibility of the customer upon delivery if applicable.
Hello Chocolate cannot make any delivery date guarantees for international orders. 
Don't see your country? Contact us here and we will do our best to help you.