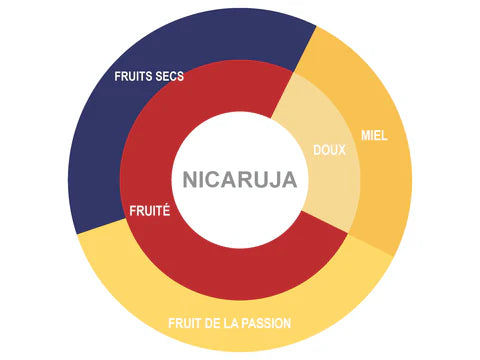 Chaleur B Chocolat
Chaleur B Chocolat - Couverture Chocolate Organic Nicaruja 62%
Dark Couverture Chocolate
Sale price
$21.75 USD
Regular price
$29.00
Discover the essence of indulgence with this delicately crafted dark couverture chocolate. Immerse yourself in the velvety richness of this sweet treat, adorned with hints of honey, dried fruit, passion fruit, and granadilla. A perfect harmony that lends itself beautifully to elevate your chocolate-based creations.
CRUCIAL NOTE: Rest assured, our chocolate remains in its purest form, with no additives whatsoever. The captivating fruit notes that dance on your palate are a direct gift from the cacao bean itself.
We ship the best luxury craft chocolate from around the world to Canada, USA and worldwide. 
Shipping costs for orders outside of Canada and the USA vary depending on the destination. The shipping costs for international orders are displayed on the checkout page.
We currently ship to the following countries: Singapore, the United Kingdom.
Please note that customs/duties fees are not included in the price of shipping and are the sole responsibility of the customer upon delivery if applicable.
Hello Chocolate cannot make any delivery date guarantees for international orders. 
Don't see your country? Contact us here and we will do our best to help you.