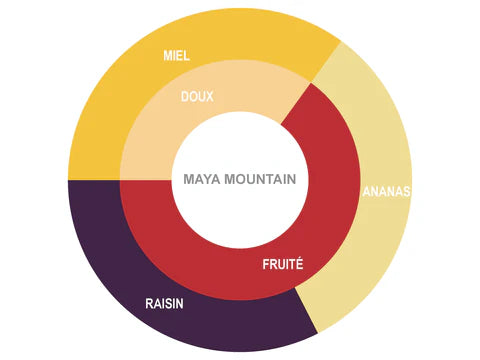 Chaleur B Chocolat
Chaleur B Chocolat - Couverture Chocolate Maya Mountain 70%
Dark Couverture Chocolate
Sale price
$47.25 USD
Regular price
$63.00
Double Silver Medalists at the International Chocolate Awards in both the World 2020-2021 and Americas 2021-2022 categories!
Behold the Maya Mountain 70% Chocolate Drops from Toledo, Belize – a creation by Maya Mountain Cocoa (MMC), the pioneering high-quality cocoa exporter of the nation. Setting the benchmark, MMC employs advanced post-harvest processing to harness the essence of cocoa. Through a meticulously crafted trio of sun-drying stages, an unparalleled flavor spectrum emerges.
In each bite, you embark on a sensory journey that encapsulates the splendor and opulence inherent to Belize. The profound richness of the Maya Mountain pastilles, reminiscent of its origin, attests to its global acclaim.
CRUCIAL NOTE: The purity of this chocolate prevails, with no additives disrupting its essence. The fruit nuances that caress your palate are an unadulterated gift from the cocoa bean itself.
The chocolate can be grated at the workshop, if you plan to use it to make hot chocolate or any other preparation that requires it to be reduced into small pieces, not barlichocos (our default tablet size, 4g per unit).
We ship the best luxury craft chocolate from around the world to Canada, USA and worldwide. 
Shipping costs for orders outside of Canada and the USA vary depending on the destination. The shipping costs for international orders are displayed on the checkout page.
We currently ship to the following countries: Singapore, the United Kingdom.
Please note that customs/duties fees are not included in the price of shipping and are the sole responsibility of the customer upon delivery if applicable.
Hello Chocolate cannot make any delivery date guarantees for international orders. 
Don't see your country? Contact us here and we will do our best to help you.