The French Kiss of French Chocolate: The Sexy Power of a Corporate Gift Full of French Chocolate

Author Dima Minkov / Corporate Gifts / Published: Apr-25-2019
Why French chocolate is so unapologetically delicious? Let's take bean-to-bar chocolate.. While other craft chocolates can be "sophisticated", "interesting", "earthy" or "fruity", French chocolate by Francois Pralus or Bonnat is simply delicious. Savouring it we never had a single thought that it requires an evaluation, or making notes trying to guess the aftertaste. We simply put it in our mouth and let it hit us with ecstatic pleasure.
Maybe the secret is in the long French tradition of enjoying food without being too serious about it. While American and other continents are obsessed with healthy nutrition, French people simply enjoy their food, wine and a company of close friends gathered around the table. Maybe this is the secret of good health? Maybe this is the secret of a great quality of life? Maybe we all need to forget for a moment about calories and omega-3 fats and just let ourselves to enjoy a slow-cooked cassoulet with some pinot noir and chocolate cake with melting praline?
Maybe the secret in a long history of French chocolate craft that is rooted in the 17th century when the first chocolate drink had been sent as a gift to 14 years old King Louis XIII by his future wife - Ann of Austria - and later won the popularity among French nobility bearing the reputation of a strong aphrodisiac. Truly sex was always one of the oldest and the most powerful advertising messages. While the investment flew into chocolate making, French chocolatiers gradually obtained the status of culinary celebrities serving their chocolate creations to the French high society. The situation remained the same until our days.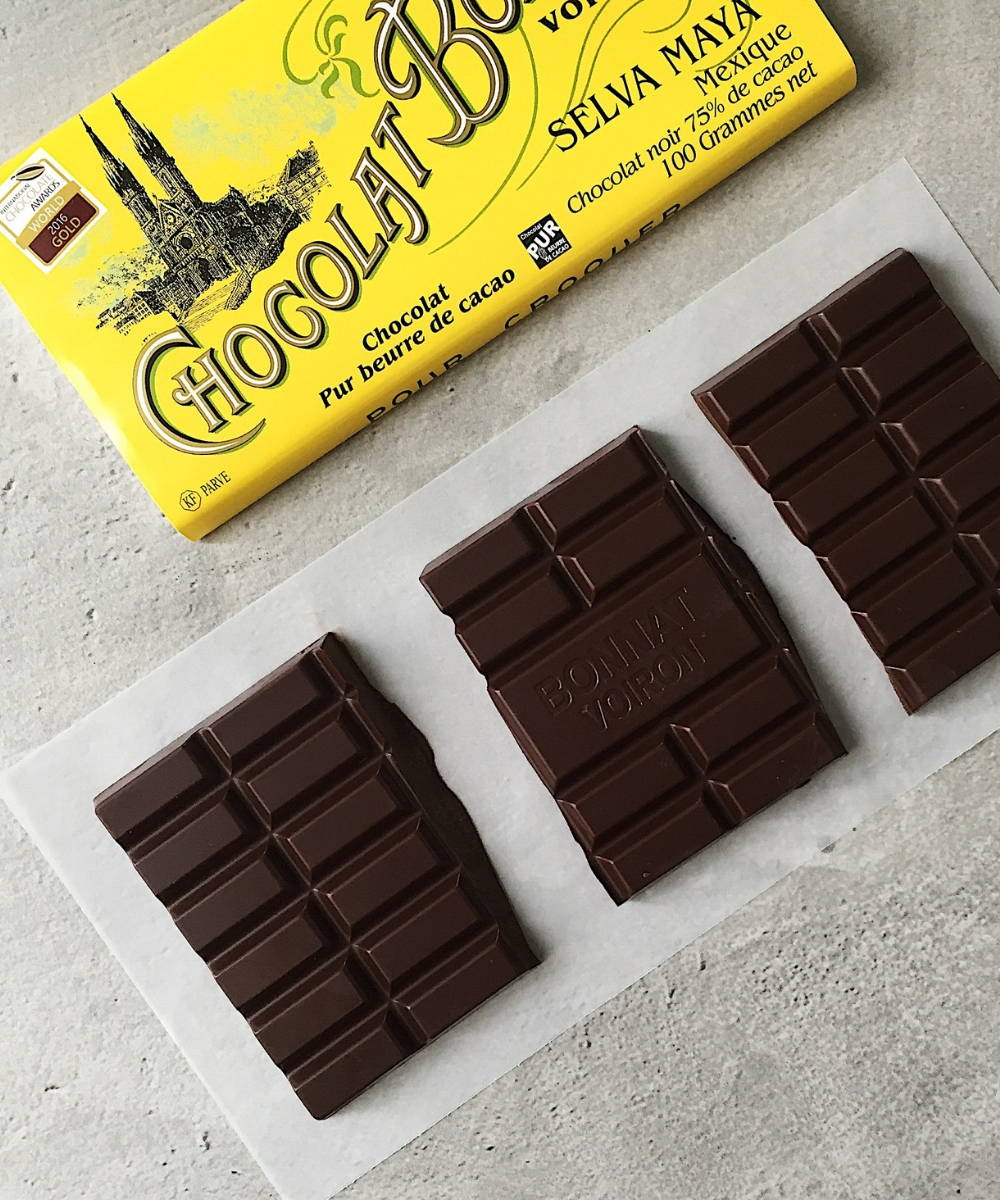 Let's take our absolute bestseller - Barre Infernale by Francois Pralus. In order to track the history of this absolutely addictive chocolate bar staffed with pistachio praline and roasted pistachio, we need to know the story of its creator.
Francois Pralus is a graduate of Maison Bernachon - one of the prominent chocolate houses in France. The house and one of its' founders - Paul Bocuse - achieved their glory back in 1975 when they received the Legion of Honor from president Valéry Giscard d'Estaing for a chocolate cake they called "President" that later became their iconic creation. Imagine three layers of Cherry sponge cake covered in hazelnut praline ganache with cherries immersed in Cherry liquor. The signature chocolate shavings forming an explosion of chocolate will become the symbol of this spectacular cake. More than 40 years later, the "Président" is still the joy of many food connoisseurs around the world. See the connection? Being close to something great even for a short period of time can contaminate you with inspiration and obsession to create something great by yourself. This is exactly the story of Maison Pralus' rising.
But this is not all. Francois' father was a creator or Praluline - an iconic brioche that Pralus still produces creating long queues near his chocolate shops. Double inspiration!
So, quality is remaining the same and even increasing powered by numerous innovations and inventions. But what about distribution and marketing? Long gone the times of nobility and there are not so many presidents to sustain the business. Here comes the corporate world - the modern nobility and high society. Rock-star chocolatiers such as Pierre Marcolini and Pierre Herme are just a few examples of how chocolatiers can be effective in collaborating with big luxury brands and MNCs in the segment of corporate gifts.
Here, at Hello Chocolate, we know a lot about the world of sustainably made chocolate from around the world, including France, and know how to please our corporate clients with sexy French chocolate gifts, sent in sustainable and stylish packaging to your VIP clients and other stakeholders.
We also know that the saddest thing in the world is to read or listen to chocolate stories without being able to lay your hand on actual product. So don't do it to yourself. Order your French chocolate now or order samples of our luxury French chocolate corporate gifts shooting us an e-mail to sales@hellochocolate.asia Make your business sexy! Reveal the power of fine French chocolate!